my TTC adventure is boring so I will talk about something else.
I submitted two rooms in my house to
VINTAGE REVIVALS
. I have a house seriously in need of some love, so I decided to enter... How people are too lazy to simply write a blog post is beyond me.
HERE is the link. Go here to vote for my totally pathetic living room and/or bedroom
Let me give you the backstory to our home-renovation situation:
In June 2009, my husband and I decided to make a purchase. We had both screwed up in our youth, and nobody wanted to give us a loan for a mortgage. We decided to check out a trailer park *collective gasp*! I was a little less than enthused, being that the trailer parks where I grew up were not very impressive... nobody took care of themselves or their homes, like they had no pride at all. We all know trailer parks get a bad rap, right?! So anyway, he took me to
LOGAN ESTATES
to see what the homes were like there. I was much surprised to find that it's more like a subdivision... all the homes were newer, no later than MAYBE mid-80's but there were only a couple that old. Everything is nice and new looking, the properties were larger in size than I had seen... I was REALLY impressed.
And they were willing to finance people with credit issues!!!
After looking at some homes, and sitting down with the loan coordinator, we ended up seeing one that wasn't on the list, as it had recently been moved out of & had the carpet replaced (brand new carpet?! *eyebrows*). We picked that one!
3 bedrooms, 2 full baths. Master bath has a garden tub. I was in love. I said "This is my house", and it was a done deal.
Fast forward to now, April 2011. We've started a redo of our kitchen, it's almost completely done, so I didn't choose to include it in the giveaway contest. I spent most of the last year and a half in beauty school, having been laid off from work a while back, and my husband has this innate ability to get jobs that PROMISE a lot of work, but never seem to actually provide it.
MY HOUSE IS BEIGE. I can't stand it. I have been looking at the same junk for almost two years and we don't have a lot of extra cash to start renovations. I have ideas for my living and bedroom areas, mostly just starting with a paint job! I have big dreams of paint for these rooms, people, let me tell you! We are now starting to save our pennies (the ones not dedicated to bills) to visit our RE and talk about the possibility of getting pregnant, since it is so obvious to me it will not happen on our own. Mandi is a DIY miracle worker, but I doubt very much that she can get me pregnant, so I figured why not try to get her involved in our home-decor disaster.
We watch a lot of the DIY network and see all these cool tricks and tips, but it's just not in our life budget right now. *huge sigh* Yes, this is basically a PITY ME post. Pity me and vote for Mandi to come make my house into something utterly fantastic. We've worked so hard just to stay on our feet and it would be such a BLESSING to us to have someone come in and help us out in our home.
I will leave the voting up to you, and in the meantime I will pray and pray for the Lord to send us in the direction He sees fit.
Thank you for your time and consideration!
Here are the pictures of our living room (nope. I sure didn't clean anything before snapping the pics with my phone):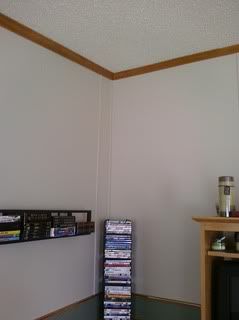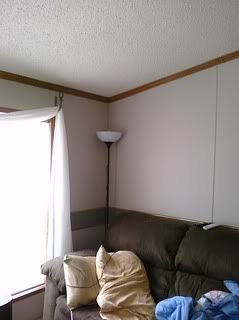 And here are the pics I snapped of the bedroom (again, no cleaning or straightening up, haha... I'm a busy lady!)